Ben Sheeler's Success Story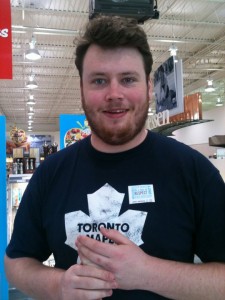 Ben loves to be out on the lake during the summer, especially when visiting his parents. Ben and his dad would always go out together on their family boat down in Katrine. Ben met with his planner Robin on a number of occasions to talk about planning and what he wanted to accomplish. Ben decided that it was time to get his boater's license so he could drive the boat when he visited his family and began reading over the study material at the end of last summer. His goal was to have his license by summer of 2011.
Each week Ben would go to the library in Powassan with Carlie to use one of their meeting rooms downstairs for a quiet place to study. This area was a great place to study because this gave him a chance to see everyone at the library, see new events and projects put on by library members, and there was always someone around to help him if he had a question.
After much time and effort, Ben took the Boater's Exam in Powassan on March 31st 2011 and passed with flying colours! All his hard work paid off, ( Ben only got one question wrong on his test!)and he can't wait to get on the water now!
Congratulations on your success Ben!