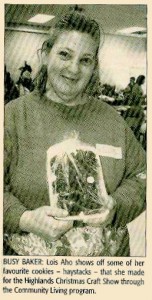 The Community Participation Support Program (CPS) provides a safe and engaging environment which encourages people to pursue new experiences, challenges and relationships in or near their own community. Participants also have the opportunity and support to prepare for and pursue employment or volunteer interests.
CPS in Sundridge has approximately twenty-five people who attend the program regularly. The focus is on inclusion and a commitment to connecting with the people and resources available in the community.
The activities in the program are based on:
Individualized supports and individual goals
Education, literacy and skill building
Recreation such as swimming, bowling, crafts, ball hockey, games, etc.
Various trips to public activities and sporting events and participation in various community clubs
Socialization within the program and in the community based on individual interests
The Community Participation Supports program also proudly supports and collaborates with several groups and agencies in the community such as, Special Olympics Athletes, Nearnorth Enviro Education Center, Employment North, The Lions Club, The Legion, and many more.
Since the winter of 2009, the CPS Program has been sharing space with the Sundridge Food Bank. This partnership works well for both parties as AHCL recognizes the essential service the Sundridge Food Bank provides to the community.